Drawings by Artist Kelli Swan
Black & White Pencil or Pen & Ink Drawings: Horses, Dog Breeds, Buildings, Landscapes, Historic Scenes
This site features the amazing pencil drawings of Artist Kelli Swan. Though Kelli works with many topics, her specialty has always been her detailed horse drawings and her dog breed drawings, especially Doberman Pinscher and Sport Horse artwork. She also loves illustrating buildings, landscapes, historic and nature scenes. In addition, she creates custom drawings for special gifts. Custom pet portraits in pencil or house portraits in pen & ink make great birthday, anniversary and memorial tribute gifts!
On this site you will find Kelli's artwork for sale in the form of Limited Edition prints, notecards & gift items. You will also find information on ordering custom portraits in pencil or custom pen & ink drawings. You may also want to check out Kelli's graphic design work on horse and dog vector logos.
FREE SHIPPING!
Free Shipping on Limited Edition Prints Through Nov 30, 2014
Receive free shipping on Kelli's limited edition prints through November 30, 2014. (US destinations only.) No minimum order! Use Coupon Code: FREESHIP2014.
---
Custom Pencil Portraits:
Pets, Dogs, Cats, Horses and Specialty Topics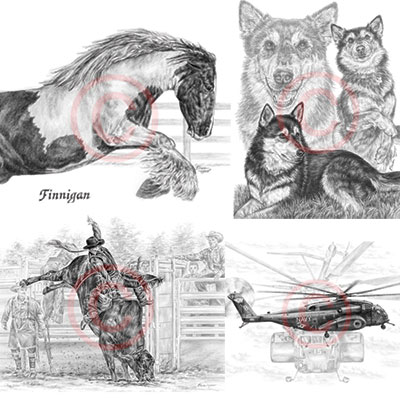 Special orders for custom portraits in pencil are accepted year-round. Subjects that make great pencil drawings include: historical scenes and landscapes, horse portraits, dog breed drawings, cats, other pets, vintage aviation and biplanes as well as other subjects. These can make great Birthday, Holiday and Memorial gifts.
The original pencil drawings are black and white and are created from customer-supplied photographs.
---
Custom Pen & Ink Portraits of Homes & Houses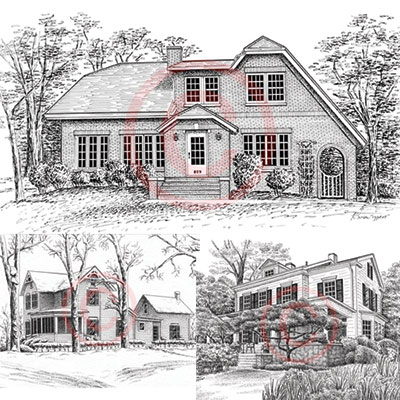 Special orders for custom portraits in pen & ink are accepted year-round. Pen & ink is a classic look for home portraits, house drawings and other architectural artwork. These portraits make great gifts for parents, friends, real estate clients, or anyone with close ties to a building or home.
The original pencil drawings are black and white and are created from customer-supplied photographs. Each home portrait includes a high-res scan of the drawing and limited copyrights for personal use, such as making notecards of family gift items.
---
Cuyahoga Valley National Park Series
Now available in Prints and Notecards! Featured here are my latest pencil drawings - a series of landmarks from the Cuyahoga Valley National Park. Included in this series is: CVNP Headquarter buildings in Jaite, Brandywine Falls, Virginia-Kendall Ledges and a Locomotive at the Brecksville Station. These drawings are now available as: Limited Edition Prints, Open Edition Prints and Note Cards. Just go to my Landscape Drawings page and click on the image(s) you like to see order options!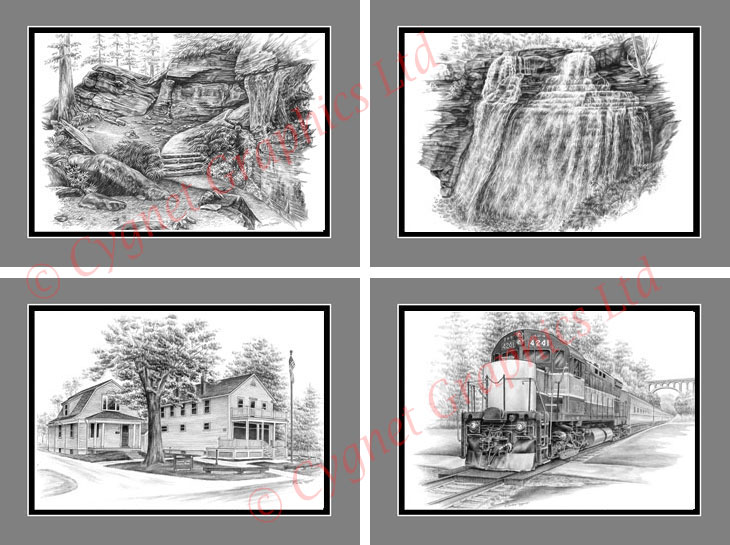 ---
Other Recent Print Releases
Doberman Pinscher Drawing: Puppy Mischief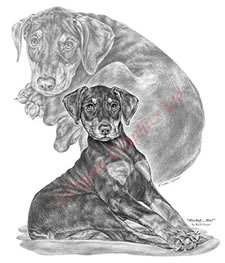 This Doberman Pinscher dog pencil drawing features Dobe puppies with their adorable expressions. As a Doberman-lover myself, I find these puppies to be particularly inspiring artistically. The title of this artwork is "Mischief ... Moi?". I have a number of other Dobie pieces available, featuring both natural and cropped ears on the dogs.
"Mischief ... Moi?" is available in print form, on notecards, and a number of specialty gift products. [Click here to see page with all order options.]
---
Chincoteague Pony Drawing: Grooming Ponies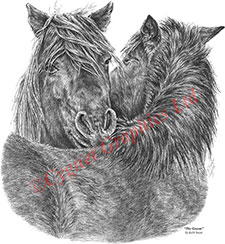 This Chincoteague pony pencil drawing features shaggy ponies enjoying a mutual grooming session. I have titled this piece "The Groom." This artwork is now available in black and white and color-tinted form on prints, notecards and gift items like iPhone/iPad covers, t-shirts, mugs and more. [Click here for more information on this Pony Pencil Drawing and it's order options.]
(My sincerest thanks to Ken Conger for the photo reference used in this project!)
---
Pointer Dog Drawing: Hunting Dog Montage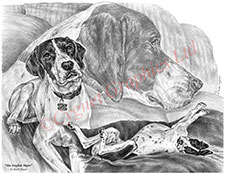 This English Pointer pencil drawing features a beautiful black & white Pointer dog. I have titled this piece "The English Major." This artwork is now available on prints, notecards and gift items like iPad covers, t-shirts, mugs and more. [Click here for more information on this Dog Pencil Drawing and it's order options.]
---
Wildlife Drawing: White Swan on Water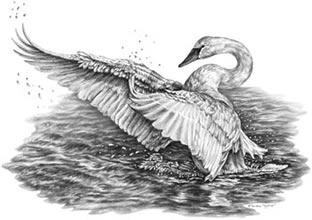 Pencil Drawing of Swan in Water
This wild bird pencil drawing takes me into a new genre of work - wildlife! I chose for my first piece this beautiful white swan - showing its magnificent wing span over the water. Titled "Dreams Take Flight" this artwork is now available in Limited Edition Prints. You can purchase these White Swan art prints in either black and white or tinted with color. This art is available in print form, on notecards, and on a number of specialty gift products. My sincerest thanks to Ken Conger for providing the reference photo for this drawing!
---
Online Specialty Stores with Kelli's Art:
Open Edition Prints: Choose your Own Matting/Framing at FAA!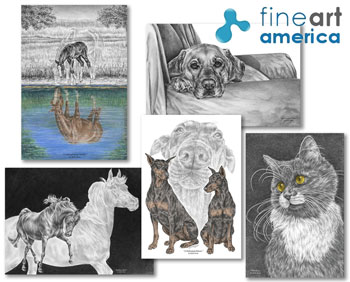 Open Edition Prints of Dressage Horses, Doberman Dogs, German Shepherds, Horse Racing and more.
A number of my horse, dog, cat, aviation drawings and other pencil drawings are available as open edition prints through my store at Fine Art America. Choose your own print size, and matting/framing if you like. The pencil drawings reproductions are also available on canvas!
---
Customizable Mugs, Phone Cases, Shirts, Cards at Zazzle!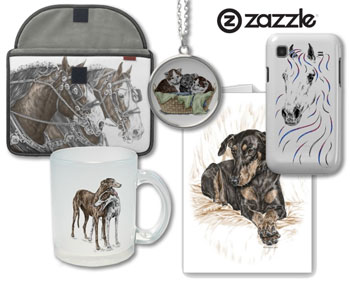 Customize products with your own name or special inscription! Arabian, Friesian, Jumper and Racing Horse Art. Doberman, Greyhound, Yorkie Art, on Mugs, Cups, Shirts, iPhone/iPad Sleeves, etc. My Zazzle Store features many of my pieces on a variety of products. Best of all - these products are CUSTOMIZABLE with your own information! Add a special family greeting to notecards or a personalization to coffee mugs. Or add your business name for a unique business gift. They even make memorial tribute gifts!
---
Horse, Dog and Cat Art Black and White Notecards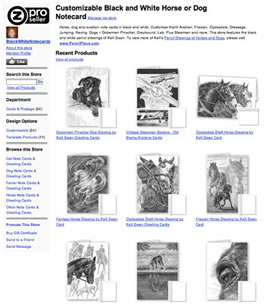 My black & white note cards are available again! Through a special Zazzle store created to stock these horse, dog and cat note cards, I now offer an assortment of my drawings as greeting cards and note cards. The Zazzle approach offers several perks: you can purchase whatever quantity you like of each image - mix and match at will! AND, you can customize the notecards! Add your own personal or business greeting inside. You can even add your pet's name or farm name to the front of the cards! These note cards are available in two sizes as well.
Shop B&W Notecards at Zazzle now.
---
2nd Edition Artist Marketing Book by Kelli Swan!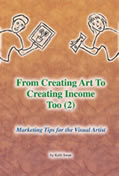 I recently published a second edition of my Artist Marketing Book - available now in ePub & Print formats!
"How did you get started selling your artwork?" This is the question that inspired me to write my first book, From Creating Art to Creating Income. It is a question I have been asked many times over the years. Whether self-schooled or traditionally taught, most amateur artists have been taught little about how to generate income from their work. This book contains a wealth of helpful tips, interwoven with life philosophy, and is designed to inform and inspire. Packed full of helpful information, this book is sure to inspire any artist ready to take the plunge into "earned income" from his or her own creations!
This second edition has been updated with new artist marketing resources and ideas. Marketing tips for emerging visual artists - learn how to make money through the sale of art. The material covers using traditional marketing outlets such as galleries and art festivals as well as many tips for marketing on the internet (websites, blogs, ebay, etsy, facebook, social media, online auctions and more). Digital Download - $4.99. Print Version - $8.99.
» Artist Marketing Book (2nd edition - digital) by Kelli Swan at iBookstore/iTunes
» Artist Marketing Book (2nd edition - digital) by Kelli Swan at Barnes & Noble Nook
» Artist Marketing Book (2nd edition - digital & print) by Kelli Swan at LuLu.com
AND, if you wish to read part of all of the book for free, its content is available on this website! Just Click Here or see the "Art Marketing Book" page under the More tab on the navigation!

Thoroughbred Horse Race Art
Horse Racing Drawings Featured in 2009 & 2010 Kentucky Derby Celebrations!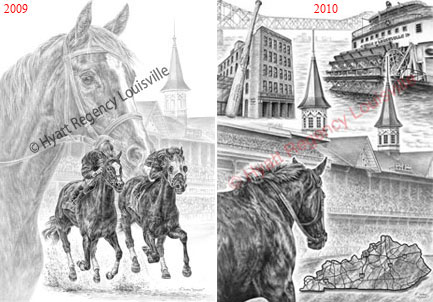 My equine artwork is now a part of Kentucky Derby history! In 2009 & 2010 the Louisville Hyatt Regency Hotel in Kentucky contacted me to order exclusive lines of Derby-theme, limited edition prints. Each print was personally signed, numbered and titled. The prints were special commemorative gifts - given to guests of the Hyatt Regency on Derby weekend 2009/2010.
The pencil drawings were created in my signature montage style. This layered drawing technique, combined with the classic look of black & white pencil drawing, makes my approach to horse artwork truly unique in the world of Equine Art. The original drawings were framed by the Hyatt and displayed in the lobby throughout the week of Derby events. The artwork is now part of the Hyatt's permanent collection.
I am so very grateful to Karen Patsfield, Executive Administrative Assistant of the Hyatt Regency, for being so wonderful to work with. Karen's organizational skills and management abilities made these large projects a joyful process from start to finish. Guests of the Hyatt no doubt enjoy all of the attention to detail from such a fine staff! I would also like to extend my heartfelt thanks to Deb Simon Photography. Deb kindly allowed me to use some of her horse photography as partial reference material for one of the projects. Thank you once again Deb!