Sunny Sense Dog- and Cat-Lover Designs
Moments of Doberman-Inspired Sunshine!
Sunny Sense designs were inspired by "Sunny," the Doberman Pinscher dog!

Sunny was such an inspiration for me, so I have created a number of designs to share Sunny's sunshine & love. While Sunny crossed the Rainbow Bridge in 2010, her amazing spirit lives on through other wonderful dogs who have continued to inspire me: Capone, Noelle, McKenna, and Blue. Each day brings new adventures and memories, so I continue to create Sunny Sense designs to commemorate these amazing fur-spirits.
You can find more about Sunny's story, and the dog lover designs which she inspired, at her dedicated website: www.sunnysense.com. At that site, you'll find photos of her, along with images of my other dogs, here and crossed, who continue to inspire me daily.
All Sunny Sense products are currently available through the SunnySense Zazzle store.
---
Dog or Cat Pet Sympathy Cards
Some of the more popular items in the SunnySense Zazzle store are the color dog and cat pet sympathy cards. These cards are available with Good Night Sweet Prince or Good Night Sweet Princess, in either cat or dog themes. The cards come in several sizes, and can be customized to suit your individual needs.

---
Popular Sunny Sense Designs include: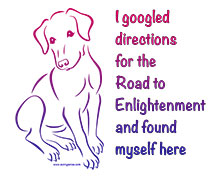 Puppy - Road to Enlightenment
The Puppy and The Road to Enlightenment dog design includes a fun quote by Kelli Swan: "I googled directions for the Road to Enlightenment and found myself here". 
[see Zazzle products]
---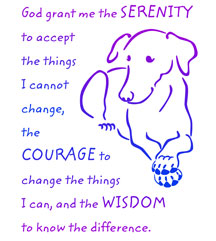 Dog - Serenity Prayer
The Dog and Serenity Prayer design includes the time-honored message of inspiration: "Grant me the Serenity to accept the things I cannot change, the Courage to change the things I can, and the Wisdom to know the difference". 
[see Zazzle products]
---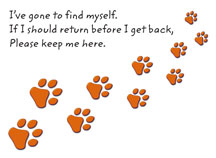 Paw Prints - Gone to Find Myself
The Paw Prints and Gone to Find Myself dog design includes a funny statement: "I've gone to find myself. If I should return before I get back, please keep me here". 
[see Zazzle products]
---