Testimonials for Kelli's Artwork
Comments from Satisfied Customers: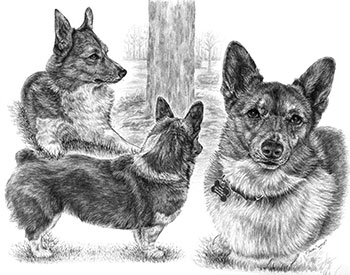 We were devastated when we lost our Welsh Corgi Sophie, fairly unexpectedly, at the young age of 10. In the first days of our grief, we decided that a sketch of her would be a great way to keep her memory alive. A search lead me to Kelli's website and I instantly knew she was the right artist to undertake this job that meant so very much to us.  
Kelli caringly took in all the details we provided about Sophie's life, from a letter, phone calls, emails, and photos (encompassing our first day together to our last), and provided us several sketches from which to choose. They were all heart-touching and captured Sophie perfectly; the choice was extremely difficult. But we are overjoyed with the finished portrait – three of our favorite memories of Sophie, depicted in one of her favorite spots on our farm, which is now her final resting place. We cannot thank Kelli enough for helping to keep our "Little One" forever in our hearts – she is a special person with a special talent!
Julie & David, KY
*****************************************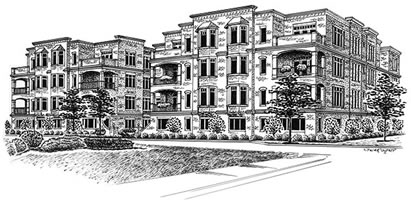 My wife and I have had a tradition of doing an ink drawing of every place we have lived, right before we move to our next home. We have several beautiful pieces, but the artist who had done them for us previously had retired. After searching on the internet for someone to help us continue this, we found Kelli. I was concerned about working with someone remote as our prior artist was a local vendor. However Kelli was incredible. She worked with us over email and the communication was amazing. She provided suggestions and worked hard to make sure we would get something exactly the way we wanted it in order to match our prior works. In the end what we received was even better than our former pieces and is now framed and on display. I highly recommend Kelli to anyone looking for a pen and ink drawing.
Michael & Nancy, IL
*****************************************
Hello Kelli,
A few months ago I had the idea to create a special art piece for my wife. I have dragged her to many locations over the years and we lived in a number of different houses. I thought it would be interesting to create a permanent memory of the homes of our life. I am so thankful that I found you via a Google search to work on this project.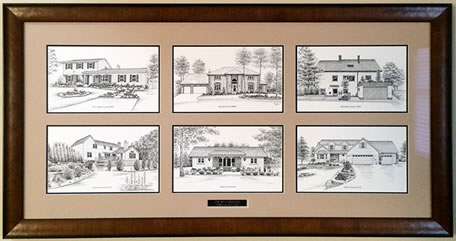 As you can see in the attached photo, the end product turned out amazing thanks to your talent. I surprised my wife with an early Christmas gift and she was dumbfounded, happy and amazed all at the same time. She even shed a few tears.
We now have this special piece as a center point in our home. We are so thankful for you and your amazing talent. You have given us something we will treasure forever.
Best Regards,
Jim Rulseh Salem, WI
*****************************************
I contacted Kelli after seeing some of her artwork that turned up in a Google search on the Internet. There was one particular drawing that caught my eye and I asked her if she could do something similar for a logo for our Virginia winery. I am very particular and hard to please. Very few people fulfill my expatiations. Kelli surpassed them.
I had a vague idea of what I was looking for in a logo but no specifics. In our initial conversation I am sure I told her more about what I didn't want as opposed to what I was looking for. She took my nebulous vision and gave me several suggestions. Within a few days, she sent me her first batch of proofs. There were about twelve and there was not a single one that I didn't like. Kelli designed logos that I could never have imagined. Even if I had artistic ability and could draw a logo, I could not have thought of these designs. The hardest part was choosing among her designs.
We narrowed it down to two and told Kelli what we liked about both. She took the elements that we like and combined them into a single perfect logo. Again, this is something that we could have never envisioned on our own. Kelli then went beyond drawing the perfect logo. She even worked to reformat our chosen text font to perfectly complement our logo. The attention to detail was something that I rarely encounter.
After choosing our primary logo and text, I spoke with Kelli about acquiring rights to use one of her other designs. After all, they were that hard to choose among. In addition to our "official" logo, we chose to purchase one of her other proposed designs. This design is a variation of our chosen logo and will blend perfectly in our promotional and marketing campaign. In short, I did my research and knew what I was going to spend on a custom logo. What I didn't know was that I was going to be fortunate enough to work with someone like Kelli. She was very attentive and responsive. There was never a time in the process that I was left wondering what was going on. This is the first recommendation that I have felt compelled to write in my forty years of doing business. I simply cannot recommend Kelli highly enough.
Jay Fenske,
Grey Horse Vineyards Winery, VA
*****************************************
Kelli, I received the drawing and took it to get it framed. I am absolutely stunned at how beautiful it is. The house looks exactly like what I remember right down to the lion and the brain rock by the bush. Thank you so much for drawing this. My brother is going to be blown away!
Susan Holst,
[Pen & Ink Portrait Customer]
*****************************************
Working with Kelli to develop my business logo was a pleasure from the start of the process. She listens and executes quickly and with a lot of thought to provide great options. The process was exciting because Kelli offered enthusiasm in addition to an artist's eye in developing a logo until I was completely satisfied with every detail. Thanks Kelli for your professionalism on my project! [UPDATE 3-31-14: "I'm still entirely proud of my logo after 3 years. Slowly but surely my brand is growing. You really hit a home run capturing the energy and essence of my business. Thanks again for your prompt professional service!"
Michelle Griffith,
Mane Rise Coaching, OH
*****************************************
I wanted to let you and your future customers know about my wonderful experience with you. I had never ordered any piece of art from anyone before, so I was quite nervous about ordering one. I was afraid you wouldn't be able to capture Smokey in the way I had imagined in my mind. You did the total opposite of everything I thought. Kelli listened to my stories about Smokey and listened to how I wanted my portrait done. She always responded so quickly which I loved. I was not just left in the dark wondering what was going on. When I recieved my portrait it took my breath away. I was completely amazed at how magnificent it is. She captured every detail, even a small scar by his eyel! She got the exact expressions and look in his eye as he still has everyday. I look at the portrait and can't believe I have something so beautiful. This portrait will be a wonderful thing to honor him by when his time comes and I am so glad I got it. If you are considering getting a portrait from Kelli don't consider, just do it. You will not be dissapointed! Thank you so much Kelli for all your hard work and patience.
Sincerely,
Tricia, USA
*****************************************
Hi Kelli - We received your beautiful greyhound note cards, sympathy cards and the gorgeous print of the Stearman. We love everything. The print is already framed and I just knew my husband would love it. I love love love the notecards. Thanks so much, your work is amazing.
Sincerely,
Debbie and Pete, Canada
*****************************************
Hi Kelli - My husband just came home from the post office with the box. It [custom drawing] is fabulous! I can't wait to have it professionally framed. We are so pleased with your drawing. It is just lovely - we knew it would be wonderful. (Doberman Pinscher dog portrait).
Sincerely,
Karen Moore, Fulton, MD
Co-author of: The History of theDoberman Pinscher as Depicted Through Collectibles, Art and Literature
*****************************************
We have contracted Kelli to create artwork for several of our branding campaigns. Her work has never failed to impress us with their power and motion and realism. She always knows intuitively what we need and delivers the work in a timely manner. We look forward to working with her in the future.
Mathew Caine, Art Director
Double K Industries
Chatsworth, California
*****************************************
Good morning! I received the portrait yesterday - THANK YOU! It is just beautiful! You did such a wonderful job, that I cannot thank you enough. I am so pleased with it!! Take care and thanks again - I am so glad to see Chloe's face every morning! (Custom dog portrait)
Laura H., Ohio
*****************************************
Hi Kelli - My husband just came home from the post office with the box. It [custom drawing] is fabulous! I can't wait to have it professionally framed. We are so pleased with your drawing. It is just lovely - we knew it would be wonderful.
Sincerely,
Lindsey L., Roseburg, OR
*****************************************
Hi Kelli - I just received my portrait and it is absolutely beautiful. Thank you so much I just love it. I can't wait to get it framed and have it hanging on my wall. Take care and all the best in 2011.
Sincerely,
Cindy D., Canada
*****************************************
Hi Kelli - All I can say is WOW! What a fabulous job! I'm not sure there is anyone else out there that could have captured Winston's personality the way you did! Thank you again SO much!
Sincerely,
Pamelyn Borden, Burlington, VT
*****************************************
Hello Kelli - We can't thank you enough for the Custom Pencil Portrait you drew for us. We are still blown away by the detail everytime we look at it something else catches our eye. You really captured their expressions and the emotions in their eyes. Everytime I look at it I have to hold my tears back! The work you do is absolutely amazing. Thank you again for helping us remember our baby!
Sincerely,
Stephanie & Matt, Northfield, OH
*****************************************
Kelli - I wanted to give you a very big thank you for the job you did on our pen & ink house drawing! They are perfect. I am currently working on getting the stationary printed and, given the quality of your artwork, expect them to be just as perfect. Thank you again.
Sincerely,
Ben Askren
*****************************************
Hi Kelli. Hope your Christmas was merry! We just love the portrait. It came out better then I could have expected. Amy loved it and it was a surprise for both of us because we both saw it for the first time together on Christmas morning.
Thanks again and Happy New Year!
Brandon Waylett
*****************************************
Kelli - Wow!! I love it. You do fantastic work. We just built a new house and this picture will be the first thing you see when you walk in the door. Keep in touch if your email ever changes. I anticipate we will do business again in the future.
Thanks again,
E J Hubel
*****************************************
Hi Kelli - Happy New Year. This Friesian Horse print is so beautiful. I framed it and gave it to my Friesian neighbor for Christmas. It came out absolutely beautiful. She was thrilled and is still talking about it!!! Thank you for the beautiful packaging and awesome artwork!
Carol Dobson
*****************************************
Hello Kelli Swan - Your wonderful Doberman pinscher note cards arrived here just a minute ago. They are breath-taking! They look much better in real than on the online images. You are a very very gifted artist. We do not find the right words in our dictionary to describe these wonderful drawings. There are not enough expressions to praise your talent and skill. We are "speechless". We are very delighted and happy with this buy. We would like to say THANK YOU for shipping internationally and for your wonderful packaging. All the best to you, good luck and success, good health and a long and prosper life.
Best wishes and kindest regards,
Ingo from Germany
*****************************************
Hi Kelli - Wow! Was I ever impressed with your artwork of the "Parade Hitch!" Its just GORGEOUS! And thank you for the beautiful note cards....what an awesome surprise!!....I'll be using those to send out to the folks we donate some of our profits to....and I'll be back for more. Again, thank you. I have the utmost respect for professionals such as you. Great job!
Kind regards,
Julie Dowding

*****************************************
Hi Kelli - We received the artwork today and it just took our breath away! Actually, I had tears in my eyes while looking at it for the first time. You are so talented. We cannot thank you enough for these beautiful drawings. We already know where we are going to hang a set of prints. And it will take us a while to figure out where to hang the originals. We want them to have a very special focal point in our home. Thank you again.
Sincerely,
Laura and Ron Srsa
*****************************************
Kelli - I just wanted to let you know that I received the prints yesterday and they are awesome.....all my friends are raving about them. Some of them are even considering having custom prints made of their dogs. Hope it brings you some more business!! Thank you again!
Leslie, Hooch, and Angel
*****************************************
Hi Kelli - Thank you for shipping so fast! I really do love your work. My favorite of your work has to be the "ulimate challenge" since I do eventing but I love all the jumping pictures :) Hope to see new work in the future!
JoAnna Pazderny
*****************************************
I got my print this afternoon. It was gorgeous! Thank you for the fast shipment. My girlfriend will love it!
Tom Chatterton
*****************************************
I have thoroughly enjoyed working with you! As an architect, I am often in the position of finding the sometimes very delicate balance between offering my opinion and guidance on a project, and incorporating what the customer wants and/or think they want in a project. It has been great to work with a fellow professional who is easy to talk to, gives great advice, and yet listens to the customers' wants and needs. I am very excited to have my own logo that I can proudly use in all of my business related correspondence and promotional materials. Thanks once again for all of your help and hard work!
Darryll Sherman
Residential Designs
*****************************************
Kelli - Thanks so much for my custom print, I received it in today's mail and it is beautiful. Can't wait to get a nice frame and hang this beautiful piece(did I say that already :) in my office. The enclosed note cards are also great.
Best regards to you and your family,
Tony DeGregoria
*****************************************
"Kelli went above and beyond our expectations when we asked her to design our farms logo. She listened to our story and was able to capture the essence of what we wanted to portray as a family and a business. Our clients are especially impressed with the design of our logo. We highly recommend Kelli every chance we get. Thank you for your work, your patience and your talent."
Jenny, Laura and Lisa at
Half Pass Farm and Stables
*****************************************